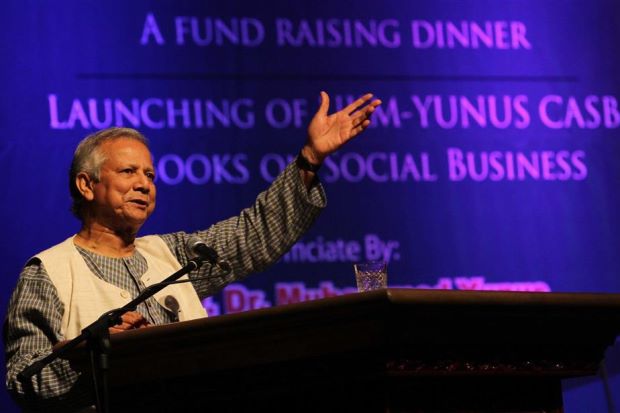 Nobel laureate Prof Dr Muhammad Yunus said that UKM – Yunus CASB will play a role in studying, advocating and catalysing social businesses in Malaysia.
What sets a social enterprise apart from other businesses? There are many interpretations, and the concept is still being debated in Malaysia
When I came back to Malaysia after completing my studies, I didn't really know what I wanted to do. But I knew at least one thing; I didn't want to spend my life working for other people to become richer, but I don't want to be a martyr either, so working for an NGO or a charity was out of the question. Not that I mind the work, but the salary for an officer level at an NGO or charity is meagre.
My mother asked me to check out Wild Asia, a social enterprise which was covered quite frequently at the time for their work in responsible tourism. I met up with the founder to explore job opportunities and not long after that I started working there as a research assistant. Through working with Wild Asia, I came to understand that you can still do business while doing good, and not compromising your staff's well-being.
Wild Asia began operating as a social enterprise in 2003, way before social enterprises became a buzzword in Malaysia. What first started as a simple online platform became a registered company providing services in sustainability. There are many interpretations or practices of social enterprises and the concept is still being defined and debated in Malaysia until today.Social Enterprise UK defined social enterprise as "businesses that trade to tackle social problems, improve communities, people's life chances, or the environment. They make their money from selling goods and services in the open market, but they reinvest their profits back into the business or the local community."
Basically if you put businesses horizontally, with traditional businesses on one end and NGOs on the other, a social enterprise would sit in the middle. It uses business to address social or environmental issues. Unlike charities or NGOs, social enterprises aim to be financially independent.
I'm not very familiar with the history of social enterprises but I think it started to become popular with Prof Muhammad Yunus's Grameen Bank. It's fair to say that he has been seen and accepted as "the father of social enterprise".
The hype reached our shores in 2013 when Malaysia hosted the fifth Global Social Business Summit which subsequently led to Prime Minister Datuk Seri Najib Tun Razak's announcement of RM20 million to be invested into a Social Business Fund. From this, the Malaysian Global Innovation & Creativity Centre to manage the fund was born. Lately, we've had a mushrooming of social enterprises, some worthy to be called as such while others are simply jumping on the bandwagon.
Because of my background in social sciences and my time spent with Wild Asia, I've developed a more conservative definition of a social enterprise. Malaysia is enjoying a vibrant start-up environment; just have a listen to BFM and it's as if every day a new start-up is born.
But herein lies the danger when start-ups are being muddled with social enterprises. Just because one is app providing a service, does not mean one has a social or environmental mission.
MyTeksi, for example, tugged a nerve when they defined themselves as a social enterprise. I'm not a Harvard Business grad, so my emphasis has always been on the social than the enterprise. For me, an app to ease transportation just doesn't cut it.
In Britain, there about 70,000 social enterprises, contributing more than RM96bil to the economy. The government has introduced policies such as tax relief on social investment to support the sector.
Here in Malaysia, we are still stuck with defining what a social enterprise is or isn't, when we should be thinking of ways to support the industry growth.
Funding and grants are diminishing as governments, corporations and foreign agencies cut back on spending. What is the future of NGOs and charities when the pot of gold dries up? Turning entrepreneurial and ensuring financial independence is likely the way to go.
This article is dedicated to Wilson Lai, founder of BYOB Green Concepts Sdn Bhd, a social enterprise with a mission to reduce plastic pollution. Wilson, you will be deeply missed.