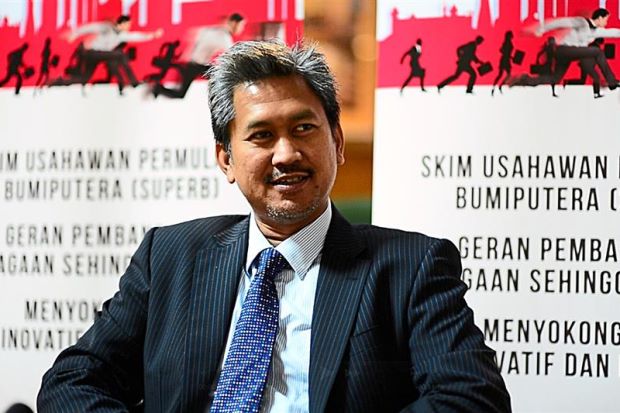 Bestari said Superb is a business challenge based on merit. Every participant is given a chance to shine through their business ideas that have to meet innovation and creativity standards.
The ongoing Bumiputra Entrepreneur Development Scheme or Skim Usahawan Permulaan Bumiputera (Superb) is seeking to help make the dreams of bumiputra entrepreneurs' a reality by providing grants of up to RM500,000 to promising bumiputra individuals or start-up companies with innovative and creative business ideas.
The government had allocated a RM100mil under the Superb programme for three years to help creative and innovative young bumiputra entrepreneurs find their footing to start or elevate their dream business. A total RM30mil has been put aside for the first year alone.
Superb had previously selected 13 winners as recipients of grants totalling RM6.5mil in its first round and another 15 winners for grants totalling RM7.5mil in round two. Since its commencement earlier this year, Superb has so far attracted over 4,000 applications from all over the country who submitted ideas.
"Superb Series 3 will give participants a valuable opportunity to pitch in front of knowledgeable and experienced panelists during a road tour. This stage is crucial for us to select the semifinalists following the tremendous number of applications received online earlier this month," said Bestari Abrar Nasiruddin, director of the Economic Corridors Programme of the Bumiputra Agenda Steering Unit (Teraju).
"Superb is a business challenge based on merit. Every participant is given a chance to shine through their business ideas but they must meet the innovative and creative standards set by Teraju and our strategic partners. Based on the high standard of Series 1 and Series 2, the benchmark to proceed to the next round is expected to be higher," he added.
"With a list of 10 strategic government agencies, we hope to get valuable input to further strengthen the Superb brand and improve the selection process and the BizPitch Road Tour will see Superb going to five locations to further promote the programme and to widen on-ground reach to the public.
The tour which kicked off at Johor Baru will move on to Kota Kinabalu, followed by Kota Baru, Sungai Petani, and conclude in Cyberjaya.
BizPitch Road Tour provides an additional platform for the programme to further fine tune the selection process, ensuring only the best business ideas go through to the next phase.
This added stage will require applicants from respective or neighbouring states to pitch their business ideas to a list of panelists before advancing to the semi-final.
These selected semi-finalists will then go through a three-day boot camp of coaching and mentoring in Cyberjaya from Sept 22 to 24, to further enhance their business proposals and pitching skills for the semi-finals and possible advancement to the finals which will be held on Sept 25 and 27, respectively.