Monday January 7, 2013
Corporate Portrait
By Sharidan M. Ali
Prasarana strives to achieve sustainable earnings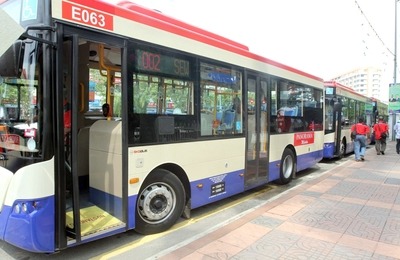 Rapid Bus Sdn Bhd is the result of a corporate restructure by Prasarana. Among the ways to turn around the loss-making bus operations is mooted the imposition of fee on the rail operations for its feeder bus services.
IT'S difficult for most public transportation companies in the world to make a decent profit that's a fact. Usually they are caught between the massive investments needed as well as high operating costs.
On top of these issues, public transport operators have to offer a "public-friendly" fare, which is also usually set by governments.

These are the problems Syarikat Prasarana Negara Bhd, the country's biggest urban public transport asset owner and operator, is facing as it struggles to achieve sustainable earnings.
Nevertheless, to be fair, most public transport companies around the globe are receiving some form of financial assistance from their governments.
In the case of Prasarana, a wholly-owned Government company, incorporated by the Finance Ministry, all of its bonds and sukuk programmes issued to finance its infrastructure development and other related matters are government-guaranteed.
Still, it is not easy for Prasarana to keep paying the yearly interest that runs into hundred of millions annually while maintaining a good public transport service and relatively low fare.
Prasarana has to date issued a total of RM10bil worth of bonds and sukuk for the past decade and is paying about RM400mil in interest per year.
And the company is expected to issue a further RM6bil of sukuk this year to finance its two light rail transit (LRT) system extensions that cost about RM7bil and other infrastructure works in the pipeline.
It was highlighted in the Auditor-General's Report 2011 that Rangkaian Pengangkutan Integrasi Deras Sdn Bhd or Rapid a unit of Prasarana that operates the rail and bus operations before the restructuring has an accumulated total loss of RM293.8mil as at December 2010.
While it is difficult, it's also not impossible for companies such as Prasarana to turn around and be more cost efficient as well as make the most out of its assets including land to be financially sustainable.
Thus, it is quite exciting to see the development of Prasarana from now onwards as it had recently undertaken a new corporate restructuring exercise that saw the creation of four new entities, namely Rapid Rail Sdn Bhd, Rapid Bus Sdn Bhd, Prasarana Intergrated Management and Engineering Services Sdn Bhd (Prime) and Prasarana Integrated Development Sdn Bhd (Pride).
The move was part of Prasarana's five-year plan as underlined in its Go Forward Plan 2.0 (GFP 2.0) blueprint.
The new four separate entities that operate the rail, bus, public transport consultancy services as well as property and commercial development now have their own separate accounts.
All the debts from the bonds are reflected on the holding company level.
At a recent media briefing on the new corporate structure, Prasarana revealed that its profitable rail operations comprising the two LRT lines and a monorail was cushioning its loss-making bus business.
According to its group managing director Datuk Shahril Mokhtar, this was not sustainable and they were finding ways to turn around the bus operations, including a fee that would be imposed on the rail operations for its feeder buses.
By having these four separate new entities that would reflect the true performance of each business unit under its umbrella, Prasarana hoped to achieve a better focus on its operation, cost, fast and precise decision-making as well as problems identification.
As previously, rail and bus contrasting financial results within the same company (Rapid) hindered objective evaluation of the services' efficiency.
On the potential impacts from the corporate restructuring, Prasarana expected its rail division to post a stronger financial result combining all the three lines, potential cost savings in rail licence fees and building a financial record towards listing this division in the stock market post-2018.
For the bus business, the new separate entity would have a better reflection of subsidy or grant requirement, provide the opportunity for an adoption for a more sustainable business model that could lead up to the expansion of its services in other cities in Malaysia.
Another interesting part of the restructuring was the renewed focused residential property and commercial development as well as consultancy services to increase its non-fare revenue.
"Ultimately, we want to increase our non-fare business to contribute at least 20% of our revenue by 2017 from 8% now," said Shahril.
Asked on what Prasarana hoped to achieve at the end of its five-year GFP 2.0 plan, Shahril said he knew that it would be hard for the whole group to make money, but they hoped to manage their cost in a more efficient manner and reduce their losses via the initiatives.
For the public, while its recent move deserves applause, the standing ovation for Prasarana is reserved when services are relatively improved and become more reliable from its current level.
Prasarana was incorporated in 1998, took over the assets and operations of the LRT in Klang Valley (the Kelana Jaya Line and Ampang Line now) as well as feeder bus services in 2002.
Putra (Kelana Jaya Line) was formerly owned by Renong Bhd while Star (Ampang Line) was owned by UK-based Taylor Woodrow, the Empoyees Provident Fund and Lembaga Tabung Haji.
The takeover or de-privatisation was done under a debt-restructuring process involving some RM5.3bil in overdue loans of Kuala Lumpur's two light railway companies that were converted into bonds.
Prasarana also took over Intrakota from the DRB-Hicom Group as well as Park May's fleet of buses during the same period