By AMALINA KAMAL | streets@nst.com.my
GREAT WIN: G. Usha Rani and son D. Dershshiv to escort World Cup mascot in the semi-final game in Brazil
KUALA LUMPUR: NAZA Kia Malaysia celebrated the coming 2014 FIFA World Cup event by granting a rare opportunity for a child to escort the official World Cup mascot  in the semi-final game in Brazil.
Over 70 parents gathered at Piazza e-Curve, Mutiara Damansara recently to participate in the Fuleco Friend Search contest to win their child a chance to be part of the World Cup phenomenon.
The Fuleco Friend Search contest required the parents to participate on behalf of their child by holding a pose for approximately 55 minutes.
Contest winner G. Usha Rani, 42, said she was nervous when she entered the contest but is happy that she turned her son's dream into a reality.
"Who would have thought holding a pose can be both mentally and physically challenging?
"I was anxious because the other parents looked really determined. I did not expect to win but I am beyond happy that I get to experience the World Cup craze with my son," she said.
Usha's son, D. Dershshiv, 10, said he is looking forward to the big day.
"This is going to be a really exciting experience for me because I love football. I can't wait to walk down the football pitch with Fuleco in Brazil.
"I hope to make my mum and everyone proud," Deshshiv said.
Both mother and son won an all-expense paid trip to Brazil which includes flight tickets, accommodation, a city tour and tickets to the 2014 World Cup semi-finals.
Naza Kia Malaysia chief operating officer, Datuk Hafiz Syed Abu Bakar said Kia Motor is proud to inspire children to celebrate a sport that is full of passion.
"Malaysia and Philippines are the only two Southeast Asian countries to be given the chance to contest for such an opportunity," said Hafiz.
"This is a priceless moment for the winners to be part of the World Cup event," he said.
"As the official automotive partner of 2014 FIFA World Cup, we hope the competition aspires the participants towards what may seem impossible in the future," he added.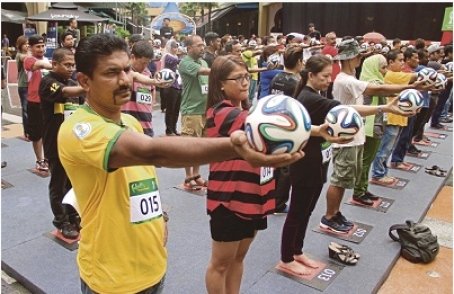 Parents had to hold a ball in one hand for 55 minutes in the Fuleco Friend Search contest. Pix by Kamarul Izzat Rahim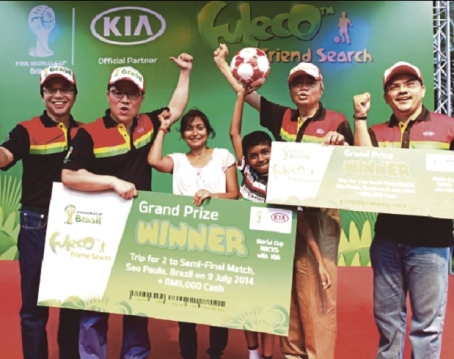 G.Usha Rani and D. Dershshiv after their win. With them are Datuk Hafiz Syed Abu Bakar (second from right) and the KIA Malaysia team