KUCHING: The Fourth Sarawak Career and Training Fair (SCaTFAIR ) 2015 which is jointly organised by the Workforce Development Unit (WDU) from the Chief Minister's Office and Tabung Ekonomi Gagasan Anak Bumiputera Sarawak (TEGAS) will see participation from various government and private agencies that offer more opportunities for fresh graduates
The two-day event will be held at the Borneo Convention Centre Kuching (BCCK) from 7 to 8 of March 2015. It will focus on fresh graduates who are looking forward to further their studies, training opportunities, and also for those looking for employment.
Assistant Minister in the Chief Minister's Office (Technical Education Promotion) Datu Haji Len Talif Salleh, said a total of 80 education and training institutions, and 58 companies and Industries would take part in this fair.
There will be 2,600 job opportunities which will be provided by 58 companies and industries, aside from education and training opportunities from 80 education and training institutions.
During the event, Pertonas and Shell are also holding job recruitment, while Jobs Malaysia will be providing employment opportunities for the fresh graduates and they (visitors) can register their name online," said Len during the SCaTFAIR 2015 press conference, held at Borneo Convention Centre Kuching (BCCK), yesterday.
Len , who is also TEGAS Chairman, said that apart from Yayasan Sarawak, there are also nine others agencies that will be providing education assistance and training such as MARA, Civil Service Department (JPA), Petronas and Shell.
This is their first time joining SCaTFAIR as a funding agencies", he said, adding that before this, Petronas and Shell participate in the fair as an oil and gas companies.
PENERAJU also comes with a special package, he said. They have opened up education and training opportunities for the Bumiputera ranging from primary school to professional level, and selected students will be fully funded by them.
Len also urged the students and Bumiputera youths to also take accountant field into their consideration as Malaysia will be needing a total of 60,000 accountants by the year 2020.
I urge students and Bumiputera youths to also consider accountant field, apart from technical and vocational training, as by the year 2020, Malaysia will require as many as 60,000 accountants.
From a total of 31,000 accountants registered with the Malaysia Institute of Accountants (MIA), only 19,000 are qualified accountants and of this figure, only eight per cent or 1,520 are Bumiputera, which is 25 per cent lower than government target.
The collaboration between TERAJU and Yayasan Sarawak has also encouraged the Bumiputera students to take Certified Accounting Technician (CAT) and Associate of Chartered Certified at Accountant (ACCA) courses in Sunway College Kuching as it is a world class centre of excellence for accountancy where the college has received platinum status for five consecutive years," said Len.
During the event, said Len, Universiti Malaysia Sarawak (Unimas) will also be providing guidance for students to fill their online applications for Pre-University programme.
He added that they will also launching Pro-DR System (Project Dreams Realised) which is invented by Unimas Dean of IT faculty Dr Johari Abdullah, for the use of TEGAS in collecting information and profiling the school leavers after graduation through online due to the increasing demand in training courses.
He also said that the State government will be including STEM (Science, Technology, Engineering and Mathematics) activities as an effort to improve the student performance in Science and Mathematics subjects.
With the increase of students' performance in STEM, it will allow more youths to participate in the technical and vocational education as Sarawak will be needing at least 50 per cent of skilled workforce and this is in accordance with the State government vision to create more skilled workforce by 2030, added Len.
He also disclosed that apart from education and career fair, SCaTFAIR will also be filled with few activities such as talks on career, and youth leadership development activities.
There are 23 slots for talks which include talks about GST ( Goods & Service Tax) before being implemented in the coming month and many others by the participating agencies," said the assistant minister.
This year SCaTFAIR 2015 collaborators are Yayasan Sarawak, Regional Corridor Development Authority (RECODA), Petronas and Kolej Sunway Kuching to provide insights into the learning, training and employment opportunities in the various institutions comprising Universiti Sarawak Malaysia (UNIMAS), Universiti Teknologi MARA (UiTM) as well as Ministry of Education, Angkatan Zaman Mansang (AZAM), Saberkas, several non-governmental organisations (NGOs), women's organisations, Parent-Teacher Associations (PTAs), as well as 80 industry players and companies, JobsMalaysia and Public Service Commission (JPA).
SCaTFAIR 2015, a two-day event, will be held from this coming 7 to 8 Marchstarting from 9.00am to 5.00pm and held at BCCK. Entrance and involvement in any activities are free for all during the fair. Transportation will also be provided to bring visitors to the fair from Summermall Samarahan, Waterfront Kuching, tHe Spring and Plaza Merdeka.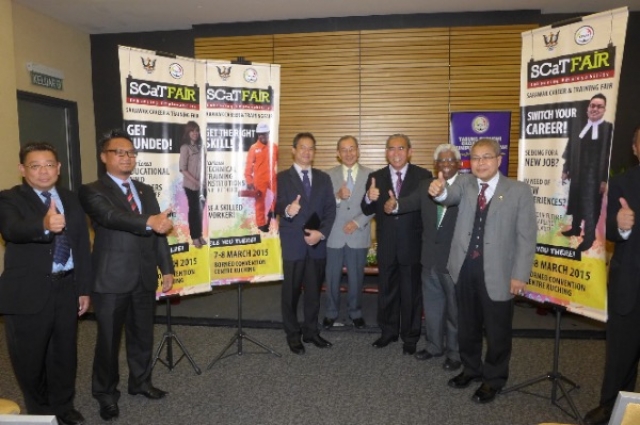 DATU Len Talif Salleh (3rd right) together with (from left) Kolej Sunway Kuching CEO Joseph Lim, Unimas Engineering Faculty dean Asso. Prof. Khalid Othman, RECODA CIO Kamil Daniel Yap, AZAM CEO Datu Aloysius Dris, CM Office Workforce Development Unit director Dr. Abdul Rahman Deen, and TEGAS Chief Operation Officer Awangku Merali Pengiran Mohamed giving their thumbs up to SCaTFAIR 2015.  PHOTOS: JOHN CHAN