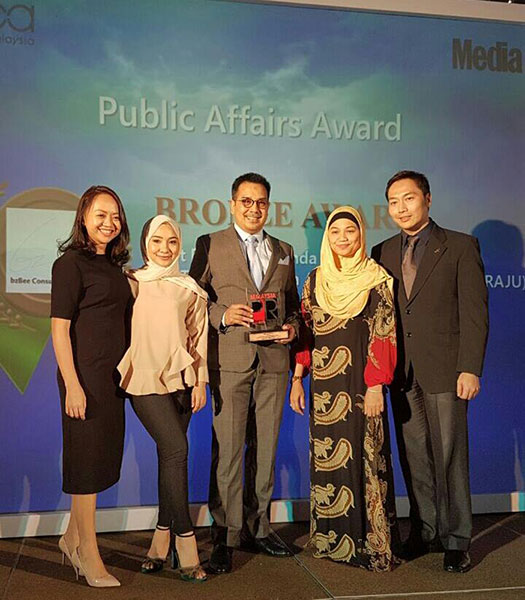 High Performing Bumiputera Company's (TERAS) Commitment to Bumiputera Agenda Campaign Given Recognition
Kuala Lumpur, 21st October 2016 – The Malaysia PR 2015/ 16 Awards held at Nexus, Bangsar South City provided the platform for PR firms to share their works, campaigns, experience as well as recognizing their outstanding contribution to the industry. The awards put the spotlight on PR firms which excelled, and identified examples of best practice to share them among a wider audience.
The Public Affairs Award recognised bzBee's exceptional work and leadership qualities in championing the campaign for the Bumiputera Agenda and their work for Unit Peneraju Bumiputera Agenda (TERAJU).
Receiving the award, En. Mohd Said Bani CM Din, bzBee Managing Director was elated with the win which signified a personal triumph and recognition of the organisation's growing presence. It also marked another triumph for bzBee after its 2013's status conferment as a High Performing Bumiputera Company (TERAS) and 4 star rating by SME Corp earlier this year.
"It is always a wonderful feeling when hard work is recognised. This award is also dedicated to the management and staff of bzBee as they attest to what the bzBee brand is all about; our passion and commitment to delivering excellence in our products and services. The awards reflect our organisation's strength and will further spur us to strive for continuous growth in the industry. We would also like to thank TERAJU for their aspirations in moving forward the Bumiputera Economy Agenda," said Mohd Said Bani.
The prestigious event for the Malaysian PR industry set a grand stage for exceptional business leaders to share their know-how with one another. Organised by the Public Relations Consultants Association, the Malaysia PR 2015 /16 Awards Night was aimed at recognising the achievements of leading business visionaries across the PR industry sector and to honour their contribution towards the nation's economic development.
Peneraju Bumiputera @terajuofficialpage