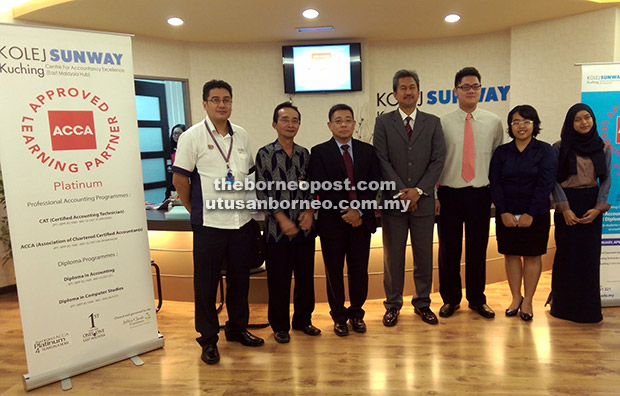 (From right) CAT graduates and scholarship diploma holder Zurizzati, Jenyffer and Adnan with Bestari, Lim, Abdullah and Nainzam.
KUCHING: The first batch of Certified Accounting Technician (CAT) students under Sarawak Foundation and Teraju@Sarawak Association of Chartered Certified Accountants (ACCA) Education and Training scheme at Kolej Sunway (KSK) Kuching passed the June 2014 examinations.
The three students and KSK CAT scholarship diploma holders Zurizzati Mohd Narizai, Jenyffer Rosli and Adnan Zaki Bunyamin Abdullah obtained their results in August this year.
KSK chief executive officer Joseph Lim said they were the first batch of Bumiputera CAT students from the state who joined the government initiative and transformation programme to achieve 25 per cent professionally qualified Bumiputera accountants in Malaysia by 2020.
"Teraju, or Unit Peneraju Agenda Bumiputra, is a unit under the Prime Minister's Department that looks at the needs of Bumiputeras and is keen to help the government with this programme in Kuching," he told a press conference at the college here yesterday.
"The scheme was an initiative collaborated by Yayasan Sarawak, Teraju and Kolej Sunway Kuching to increase the number of chartered and qualified professionally qualified Bumiputera accountants for Sarawak," he added.
Lim said these three students would do their industrial year sponsored by Teraju before pursuing for their ACCA certification.
Lim said their one-year stint to undertake the CAT course in the college was sponsored by Sarawak Foundation which would continue to finance others selected for the programme.
He revealed that in total the registered number of Bumiputera students who took the CAT programme under the scheme last year was 15; 10 this year and only one next year­ — bringing the total to 26.
"In fact four had finished CAT with us but one opted to go straight for the ACCA," he said.
Lim said Kolej Sunway Kuching was committed towards ensuring that the programme would achieve the target set by the government.
Teraju director (Strategy, Project Management and Economics Corridors) Bestari Abrar Nasiruddin praised the scheme which targetted 100 qualified professional Bumiputera accountants for Sarawak by 2020.
He revealed that there are now 31,000 accountants registered with Malaysian Institute of Accountants (MIA), with 19,000 professionally qualified.
"Out of the 19,0000 professionally qualified, only eight per cent, or 1,520, are Bumiputeras which is far from the 25 per cent targetted," he said.
Bestari said schools would be set up to spur young people into the profession and set up a Centre of Accounting Excellence with Universiti Teknologi Mara.
"There are several initiatives the government is doing with MIA and Teraju and they hope this transformation programme would achieve the target," he added.
According to Bestari, the government is confident of achieving the target by 2020 as there are 30,000 students studying accountancy in the country.
Head of programme for Teraju@Sarawak, Hanizam Hashim and Sarawak Foundation assistant director Abdullah Abdul Gafar also attended the press conference.