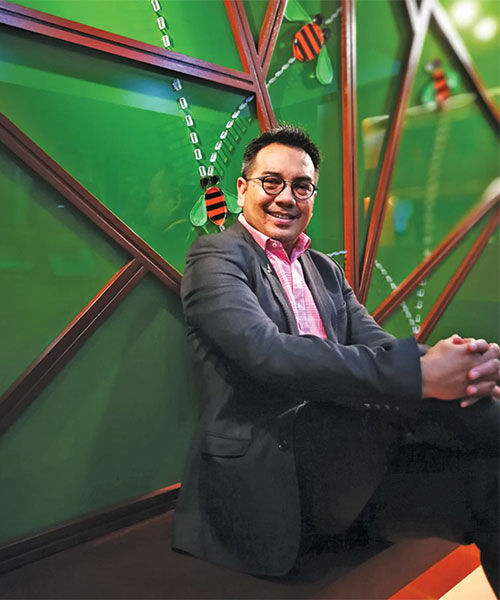 There's something remarkably hopeful about his pithy statement: "Anyone can be good in anything they want to be good at. As long as you put in the effort and the hard work!" Mohd Said Bani CM Din ("Call me Bani," he says breezily) knows what he's talking about. After all, he has proven with his own start-up public relations (PR) and communications company bzBee Consult that it's definitely possible to start something new and keep up with the industry giants.
"Absolutely," he reiterates when he sees my doubtful face, in an accent that lies somewhere between the confidence of an Ivy Leaguer and the laidback-ness of a typical Malaysian kampung boy content with a cup of kopi-O and a kuih talam in hand. At the age of 50, he's an impressive presence — exuberant, fit and everything in between. Animated when making his point, in conversation he'll take a subject, run with it into highly esoteric territory and then surprise you with a surprisingly down-to-earth assessment of his own persona.
Case in point: "I hate socialising" he blurts out suddenly in the midst of telling me another story. I raise my eyebrows. A PR mogul that hates socialising? Isn't that quite an oxymoron? "I'm good at pretending though," he adds, tongue-in-cheek and I choke on my coffee. "Sometimes I wonder if people are genuine. I do realise that it's not everyone's problem, it's mine," he explains sheepishly.
Then grinning widely, he proceeds to regale me about the time he told off a minister who kept calling him "bro" during a social function. "I mean, I'm not your brother so don't call me bro. It's so rempit!" he relates indignantly. Did you tell him that? I ask. "No. I did ask him though if we came from the same parents. He was taken aback but he got the message and laughed," replies Bani, chuckling.
Still, his abhorrence of the farcical social scene hasn't deterred him from doing what he does best — using his keen business acumen to drive his company to dizzying success in just a couple of years. "You don't have to score at socialising to get ahead. Anyone can socialise or pretend to socialise. Communication skills, the ability to analyse the situation, convey one's thoughts and get the right message across may be some of the most important business skills in the PR industry," he surmises thoughtfully. "And that isn't acquired through socialising!" he adds with a wink.
It appears that he's on the right track. Both Bani and his firm have been awarded a string of accolades, including the former being awarded the 'Masterclass Bumiputra CEO of the year' while bzBee Consult received recognition for Excellence in Public Relations 2017 by the Selangor Excellence Business Awards recently. bzBee Consult was also bestowed the 'Proactive Passion' award at the SME & Entrepreneurship Business Awards 2017/2018 which is an annual recognition award programme organised by Yayasan Usahawan Malaysia. "It's been an amazing year," he agrees, smiling.
WINDING ROAD TO SUCCESS
His larger than life personality can be felt even before being seen. His voice reverberates through the modest office in Kelana Point Business Centre before the youngish-looking founder and owner strides out with his hand outstretched for a handshake. "You look familiar," he says, his eyes squinting as he tries to make out where he's seen me before. "I'm really not good with names but I never forget a face," he adds.
Ushering me into his office, he says in an aside to me: "I've always dreamt of an office space like this when I was young. I'm a very visual person so what you see here today was in my head for the longest time ever since I was a boy. I wanted to be an entrepreneur and own an office like this. I didn't know what I was going to do back then but I knew I wanted to boss people around!" reveals Bani, laughing heartily.
"PR has never been my passion," he then declares as he sits down across me. "I'm really not a PR person. But one thing I do know is that anyone can be good in anything they want to be good at. As long as you put in the effort and hard work, you can succeed!" he says, looking at me intently as I find myself wondering if I'm hearing a confession or being rah rah-ed by a life coach who longs to see me succeed. "Anything?" I finally ask incredulously.
Absolutely!" is his resolute reply.
He certainly didn't start off as a PR maverick. A Public Service Department scholar, Bani graduated with a law degree from the University of Sheffield in the UK and was one of the few government scholars at that time to have had the opportunity of working in England upon completing his professional course at Oxford after his graduation. "I practised as a solicitor in the UK," he recalls before adding with a wry smile: "I didn't want to become a lawyer either. I really wanted to study architecture but my father said 'no', so law was the next best alternative."
After seven years of working in the UK, Bani made the trip home when his father was unwell. "I kept extending my leave until I finally had to resign from my UK job. My father never knew that I made that decision. He passed away soon after," relates Bani softly, adding: "I was disappointed initially at having to come back. I was hoping to continue working in the UK before applying for my PR. It wasn't to be."
His employment history is as wide ranging and eclectic as they come. "I gave it my best shot everywhere I went," he says simply. From Coopers and Lybrand (before it was rebranded as PricewaterhouseCoopers), Ministry of Foreign Affairs, Metrovision, Melewar Group, TM, 3CirclesMedia to Fox Communications — the eventual shift from legal to corporate and eventually to PR and communications was gradual. "As you move up the corporate ladder, you can't afford to be a specialist anymore. You have to be a generalist. This meant that aside from being a legal advisor, I was consulted on and managed a variety of different fields which included communications and PR," he explains.
Garnering a wide a range of experience, which included the diplomatic service, commercial advisory and cross-border negotiations, strategic communications, entertainment and broadcast advisory services as well as events and artiste management, Bani eventually set up bzBee Consult in 2010 with a clear vision of providing a full-service marketing & communications consultancy. The rest, as they say, is history.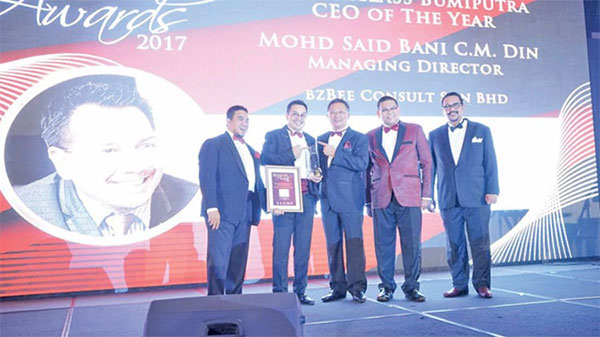 FAMILY TIES
He appears to have the Midas touch with whatever role he's taken on through his career, and one might be forgiven for assuming that he's led a charmed existence throughout. Did his father shape him to become who he is today? I ask. When Bani hears this, he affects a kind of bemused detachment, patiently explaining that his background hadn't much helped his path.
"I shaped myself, really. My father didn't shape me but he did help build the platform for my siblings and me. We didn't have much money growing up and life was tough back then," he confides, frankly. "I relied on myself and learnt to make the best of every opportunity presented to me. and worked hard for it."
Pausing a moment, he eventually continues quietly: "My father couldn't give us the emotional support we needed growing up especially since my mother passed away, so I had to dig deep inside and seek that strength elsewhere. I got that support from my friends. My late eldest sister too played that role, as she was like a mother to me. I believe that God works in mysterious ways. What a person is today largely depends on what he or she makes out of the experiences in life. If you don't make the best of it, then the fault is yours. You've got to manage your own emotions because at the end of the day, you can't blame others for it. It's really your responsibility."
His mother passed away from appendicitis when Bani was just three years old. "My father changed tremendously after my mother's death but he did what he could to raise the family. He never remarried," recalls Bani quietly. Maybe you've inherited your father's tenacity, I suggest. "Perhaps," he replies, smiling. "I really missed out on my mother's love," he says softly, recalling that she used to sew their Raya clothes every year for the festive period. "My siblings and I would have clothes made from the same material. Sometimes even out of old curtains!' he recalls, chuckling.
He recounts his life in great detail, sharing endless anecdotes and vignettes about his growing-up years with a stern father, a strict matriarch of a sister and his own journey, with a rare candidness that seems to be at odds with his PR persona. "Oh, I've reached the age when I don't really care about what people think," he says blithely. "You should write a book then," I tell him. "I hope to! That's one of my visions for the future. To write a book and to make a movie!" he replies, grinning broadly.
Big dreams maybe. But it fits his personality somehow — big dreams, big personality and a bigger vision for his company. "When you're an entrepreneur and you have a vision, you have to have fire in your belly to build it into. Hopefully that becomes contagious at your business and you build a positive, fun ethos where people are feeling like they want to win," he adds.
Bani's all fired up to achieve his big dreams. The coming year is filled with endless possibilities, he confides. All you need to do is work hard and put in a little effort — and anything is possible.